【11月22-23日】武汉大学—阿伯丁大学哲学系列讲座
点击次数: 更新时间:2023-11-19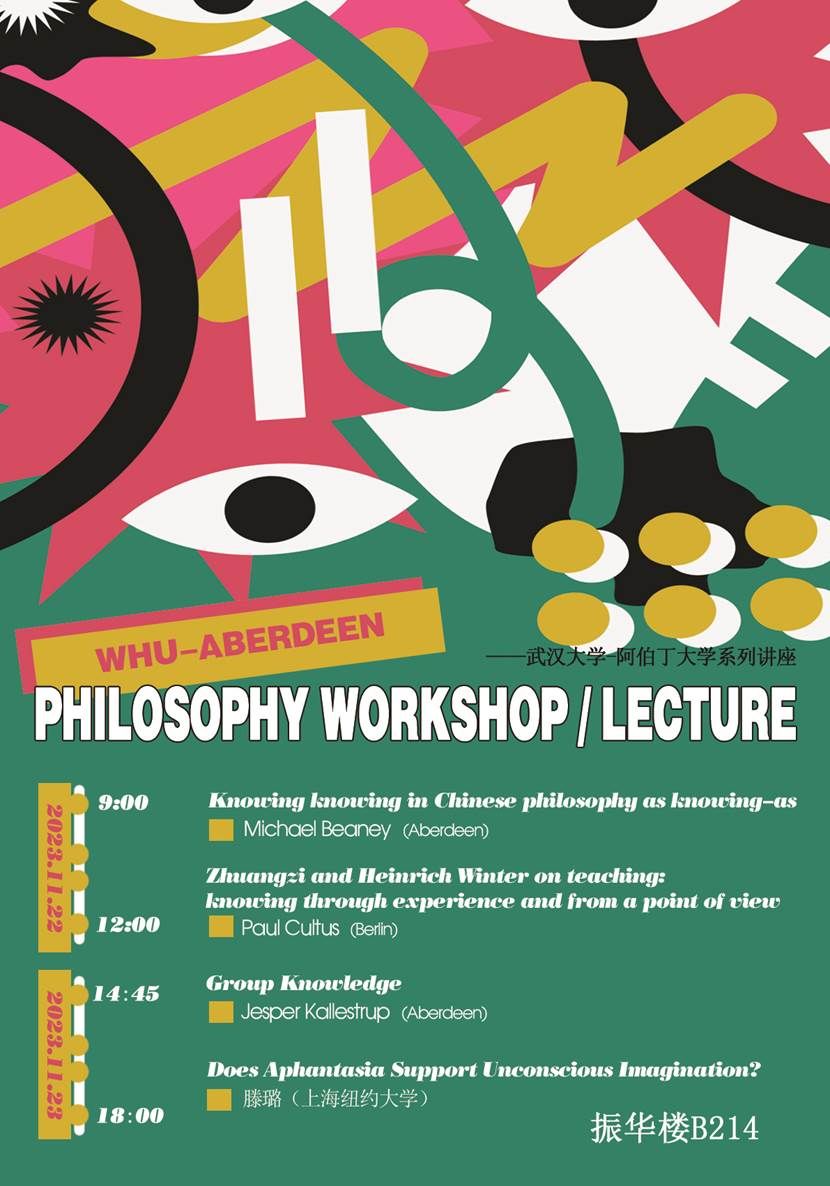 第一场
时间:2023年11月22日(周三) 9:00-12:15
地点:哲学学院振华楼B214
主题一:Knowing Knowing in Chinese Philosophy as Knowing-as
主持人:廖璨璨
主讲人:Michael Beaney (柏林洪堡/阿伯丁大学)
【摘 要】In this talk I elaborate a conception of knowing-as, partly as a way of challenging the dominant conceptions of knowing-that and knowing-how in contemporary (Western) epistemology and partly as a way of making better sense of Chinese epistemology. Drawing on Wittgenstein's discussion of both samples and seeing-as and developing the analogy between seeing-as and knowing-as, I focus on ancient Mohist logic, in particular.
主题二:Zhuangzi and Heinrich Winter on Teaching:Knowing through Experience and From a Point of View
主讲人:Paul Cultus (柏林洪堡)
【摘 要】In his influential 1995 article, Heinrich Winter posits three "fundamental experiences" as the core of mathematics education. By reading his insights through a Zhuangzian lens, I highlight the perspectivism at the core of Winter's approach.
While there are several examples of learning in the Zhuangzi, examples of teaching are sparser. Given the Zhuangzi's view of knowledge as perspective-bound and non-generalizable, its transmission should pose a problem. A comparison to Winter's experience-first approach, opposing a 'filling students with knowledge' approach, reveals a similar theme in the Zhuangzi. I argue that knowing through experience is a core aspect of the Zhuangzi's epistemology.
第二场
时间:2023年11月23日(周四) 14:45-18:00
地点:哲学学院振华楼B214
主题一:Group Knowledge
主持人: Ben Cross
主讲人:Jesper Kallestrup (阿伯丁大学)
【摘 要】Deflationism about group knowledge is the view that a group has knowledge if and only if at least most of its members have that knowledge. We shall focus on structured groups in which members occupy roles that are connected by functional relations in a social structure. Since some such groups have knowledge which is generated through a distribution of cognitive labour where none of their members share that knowledge, the necessity condition of deflationism is false. The sufficiency condition is also problematic, because there are other cases where most or all of a group's members have knowledge which is completely irrelevant to the aims or goals of that group. However, what both types of cases show is that group knowledge is determined by, if not reducible to, the knowledge that their members have qua occupying such roles. We elaborate on the societal function of such knowledge-qua, as well as the different epistemic assessments that arise, depending on whether the role or its occupant is considered.
主题二:Does Aphantasia Support Unconscious Imagination?
主讲人:滕璐 (上海纽约大学)
【摘 要】Aphantasia is a condition where subjects are unable to voluntarily create mental imagery in their mind. Recent research employs both subjective and objective measures to verify such a condition. Intriguingly, compared to non-aphantasics, these subjects can perform mental rotation tasks with similar accuracy and response times. Does this mean that they rely on unconscious imagination? I first examine and raise objections to an argument in support of unconscious imagination. Then I draw on research on consciousness and metacognition to argue that a negative answer is actually more plausible at this point.